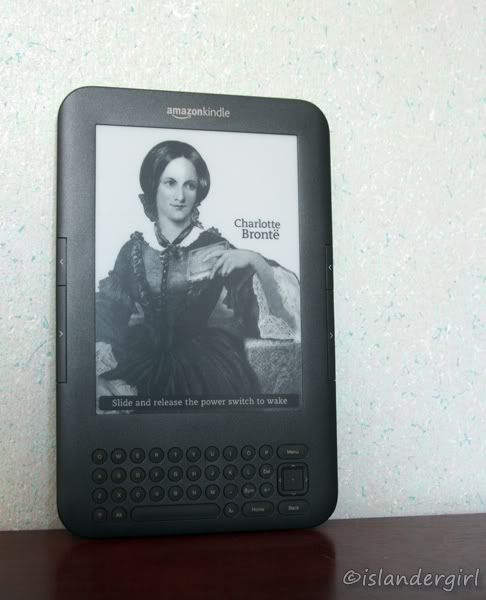 I got my Kindle 3 (Wi-Fi only) last December as a Christmas gift from my parents and it hasn't left my side since. I love it. I LOVE it. I LOVE IT! 😀
Holding the Kindle
The Kindle 3 fits comfortably in my hand, with my right hand's thumb resting exactly on the "next page" button. Yes, it is possible to curl up and read with a Kindle! 😛
The reading experience
The reading experience is just superb. With the E-Ink screen, it really feels like you're reading off of a paper book. No eyestrain here! The "page refresh" feature (what happens when you load the next page) was almost seamless, though repeated use – when I was viewing a website, for example – made my head hurt.
Organizing your books
This is probably the most time-consuming and annoying part of owning a Kindle. To organize your books into "collections" (basically subfolders), you have to manually choose each book that you want to include in the collection. Since you have to use the 4-way button and the Kindle's refresh rate is good but not blazing fast, the process gets really tedious, really fast. Here's hoping that Amazon comes up with program that will let you organize books while the Kindle is connected to your computer.
Reading PDFs
If you're getting a Kindle primarily to use as a PDF reader, consider getting the larger Kindle DX instead. Since you're going to see the PDF's pages exactly how they're formatted, you either 1) have to fit the entire page onto the 6 " reading area (tolerable if the PDF's type is large to begin with), or 2) refresh the page every so often.
Web browsing
I wasn't expecting a lot so I was pleasantly surprised to find the Kindle's web browsing feature to be halfway decent. I managed to check my email and browse Facebook without getting annoyed at the wait time. This feature is best-used for text-heavy sites. I can browse for and read fanfic on my Kindle! *happy dance*