You get ready to meet your friends by 9 AM. You're at Robinsons Galleria by 10:30 – just 30 minutes after the mall's official opening time – but the line already stretches down the hall and back again. Your customer stub reads "317". You prepare yourself to face the masses of people who want the same things you do.You grin as you receive your ration of the precious goods. A massive treasure hunt commences afterward, complete with sweat, noise, and the occasional yell of triumph. Welcome to Free Comic Book Day!
Free Comic Book Day is held every 1st Saturday of May and is participated in by all parts of the comic book industry: retailers, publishers, suppliers, and Diamond Comic Distributors. In the Philippines, the FCBD bash organized by Comic Odyssey in Robinsons Galleria is arguably the most popular, drawing more than 500 customers in the morning alone.
Comic Odyssey is a must-visit during FCBD because of two reasons: 1) they give out the most number of comics per person (3 comics! yeah!), and 2) they hold a raffle draw and pick a winner every 10 minutes. I arrived "late" and ended up being customer 317, but that turned out to be a good thing as I won a copy of "Wolverine: Worst Day Ever" by Barry Lyga during the raffle draw 😀
Since the long line in the hall was for the free comics and goody bag from Comic Odyssey, Urim (one of my friends) held our spot in line while Mark (another friend) and I went inside the store. Another reason to visit Comic Odyssey during FCBD: the sale! You can get graphic novels at 20% off, while back issues can be had for P50 each. I had to wade into this crowd to look through the back issues bins: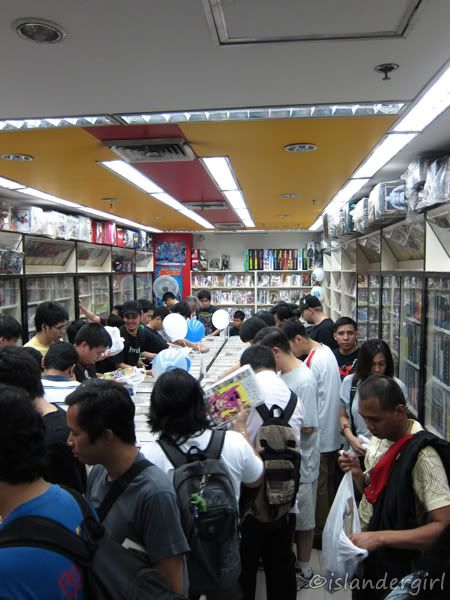 Looking through the back issues bins is like going on a treasure hunt. You look and look and look, hoping against hope that you find that one issue that your collection is missing. I got my treasure this year 😀 Everyone who knows me knows that I'm a Star Wars geek, but not everyone knows that my favorite aspect of the Star Wars universe is Rogue Squadron. I have all the Rogue Squadron comics save two: "Requiem for a Rogue" (because the trade paperback is out of print) and "The Rebel Opposition" (because the issues were never collected into a TPB except in the first Omnibus). I found TRO 1/4 during last year's FCBD and RfaR 4/4 this year. RfaR is now complete and TRO is only missing 2/4 and 4/4. YESSS!!!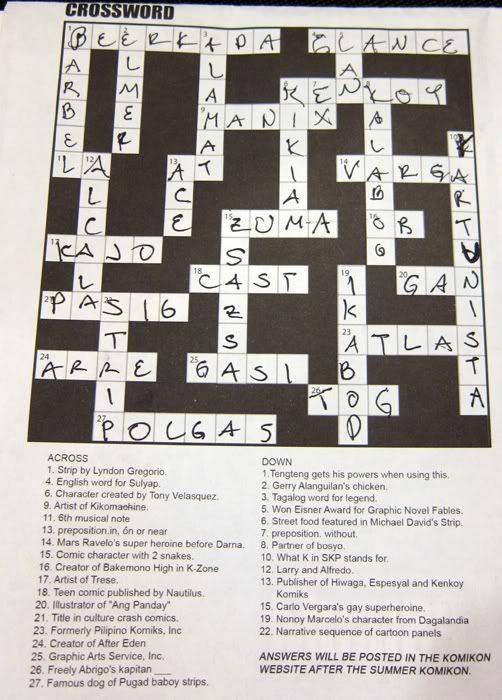 We got our free comics (I chose the Green Lantern, Amazing Spiderman, and Young Justice comics) and the 50 comic goody bag from Comic Odyssey by 12nn. Then we looked like this:
We were hungry by this time, so we decided to take our comics to the food court and do our swapping (and reading!) there.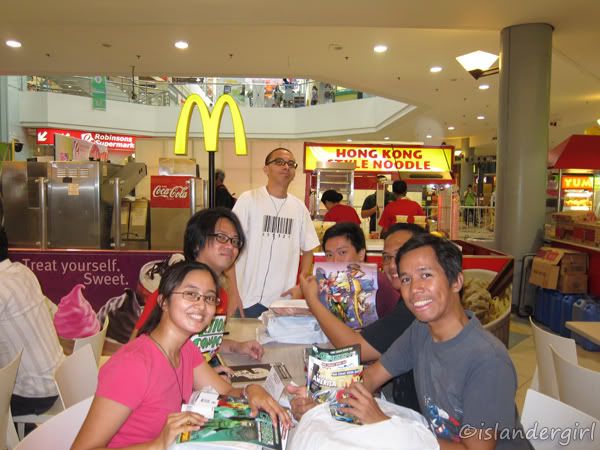 We went to SM Megamall after lunch for the Metro Comic Con though we eventually decided against going into the convention. Settled in the food court instead and read our comics before going to Cubao for Urim's stag party.