I honestly don't remember how I came up with the idea to learn pole dancing this summer. All I remember is knowing that I needed to exercise because I felt heavy and slow and tired easily. Running bored me and swimming meant needing to have easy access to a pool. Yoga was great but the studio near my house closed down. I needed something different, something fun, something challenging, and something I needed to get out of the house to do. Enter pole dancing. Enter the Polecats.
Founded by Christina "CD" Dy, the Polecats are the first organized pole dance group in the Philippines and the only studio with internationally certified pole dance instructors. They also use professional-grade X-Poles, ensuring a safe experience for everyone. I found their Facebook page and website after some quick Google-Fu and decided to attend the day after classes ended for the summer. Let me just stress that my only dance-related experience is a summer's worth of ballet lessons when I was in grade school (which involved me messing up during the showcase in the CCP Little Theater, but that's a story for another day). Their page and website provides you with all the "necessary" information: wear short shorts, bring lots of water, don't use lotion, and arrive 10 minutes early. What they don't tell you is just how much your body will hurt after the class!
My first thought when I met the Polecats in person for the first time was "God, I want those abs".
My first thought when I met the Polecats in person for the first time was "God, I want those abs". No seriously. All of them have wicked awesome abdominals. If pole dancing was going to give me those abs (eventually), then I was prepared to work. I wasn't the only newbie in the Beginners 1 class (phew!) so crisis averted. Each class starts off with 15 minutes of warm-up exercises that you can't skip. If you arrive late and miss the warm-ups, the instructor won't let you join the class. Myla asked all the first-timers to come forward so that she could better help us. She was so awesome and patient, not minding having to do the spins again if we didn't get them the first time.My favorite spin thus far is the back leg hook, primarily because I do it well. LOL. The most painful part of the class was learning how to climb the pole. I didn't have that much upper body strength to begin with, so hauling 120 lbs up a skinny metal pole was out of the question. There's a happy ending to this story though: I climbed the pole by Week 2 of class! 😀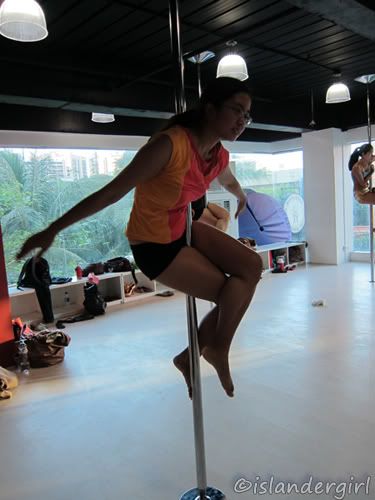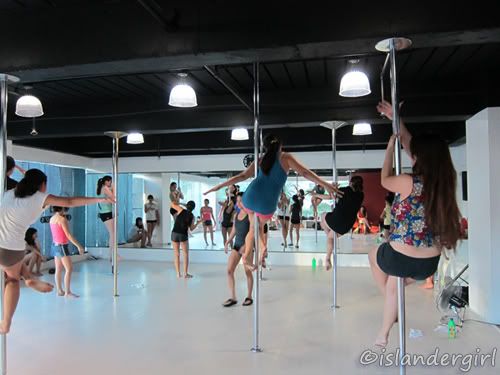 The next thing you learn after climbing is how to stay on the pole, which is even harder than climbing the damned thing. Squeezing your thighs together tightly enough that you don't slip off is an exercise in both thigh power and willpower. I have the battle scars bruises to prove it. It was worth it though, with each successful thigh hold giving me the adrenalin rush needed for the next one. I've manged to pull off decent Dreamgirl but my Skater needs serious work. More squats needed!
It's been a month's worth of pole dancing and Myla's done choreographing our class' number of the recital. In that span of time, I've managed to lose enough weight around my middle to need a belt for my pants again and gained enough endurance that I can perform the recital number 3x straight before tiring out. Huzzah! I also learned that my legs sweat after three run-throughs so my thighs can't grip the pole anymore. LOL! But the most important thing is that I feel good – I had a great time doing something I've never done before, with friendly classmates and an endlessly supportive (but not afraid to crack the whip!) instructor. Love you Myla!
I won't be able to attend classes for the rest of the summer nor join the recital – emergency laptop repairs ate up the cash I set aside for classes – but that doesn't mean that I'm giving up pole dancing. I've got dumbbells and a chinning bar ready to build up upper body strength (gotta love my vain younger brother :P) and a yoga mat for cushioning my back during crunches. Come June, I'll be back in class and raring to climb that pole again. Here's to being a Polekitten!
The Polecats
Gen Studios
3F, Pearl Plaza
Pearl Drive, Ortigas Center
For classes:  0917-700-POLE (0917-700-7653), classes@polecatsmanila.com
For bookings: 0917-701-POLE (0917-701-7653), bookings@polecatsmanila.com