The airline only allows you one purse in addition to one piece of handcarried luggage. This purse has to contain everything that will help you survive the next hours in transit to your destination. The ultimate question: what do you pack? My handbag breaks down like so: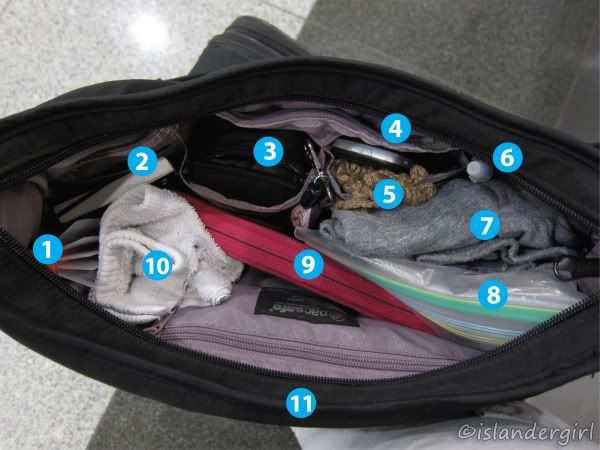 1 – Denman classic hairbrush with a rubber head (so no static electricity) and compact handle
2 – notepad for the writing ideas that suddenly come to you while in transit. I also used this to take notes from the inflight magazine.
3 – digital camera (only the case is shown because I used it to take this photo. LOL)
4 – mobile phone
5 – iPod nano (still in the case) for all my music needs
6 – ballpoint pen
7 – hoodie (we were flying Cebu Pacific so no comfy extras like blankets and such)
8 – tissues
9 – Kindle (gawd I love it so much. I finished a book while I was in Singapore.)
10 – face towel
11 – Pacsafe Toursafe handbag (on its 2nd trip overseas!)
Not shown are the travel wallet and passport that are in the outside pocket of my handbag.
What's in your bag?