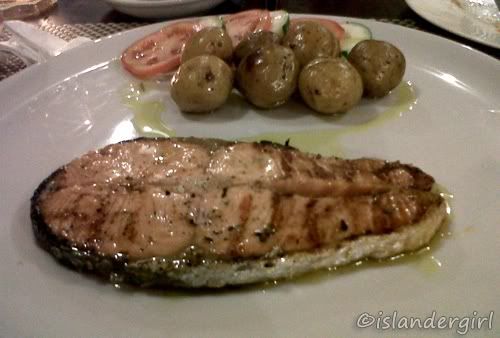 I'm a big fan of Bellini's – an Italian restaurant run by an actual Italian located in Cubao X in Quezon City. The food's great, the prices are reasonable, and the ambiance is very relaxed. Unfortunately, since I live in the South, it's not as accessible as I'd like it to be. When I heard that the owner's son Daniele opened a restaurant along Sucat Road, my first reaction was "Why didn't anyone tell me earlier?!" All that delicious food just a short jeepney ride away! I finally got to eat there last Sunday with the family. The verdict? The food's good but somehow not quite there yet.
You'd have trouble finding "Daniele's" if not for the glaring sign in front. The restaurant has no parking slots of its own (it was Sunday night so we parked in front of the auto shops the next building over) and it has a lapida maker for a next-door neighbor. It looks much better on the inside though, with the same cozy and homey atmosphere as Bellini's. The place seats 50 people. It was empty when we arrived so we had three waitresses hanging around our table and another waiter by the door, ready to spring into action. It was very disconcerting. LOL
Our party of six ordered the following:
Caprese – appetizer of fresh mozzarella, cherry tomatoes, and basil
Vongole – pasta with clams and white wine
Ravioli with spinach and pomodoro sauce
Baked fusili with asparagus sauce
Penne alla Daniele's – penne with longganisa, cherry tomatoes, mushrooms, and white wine
Filleto ala pepe – grilled tenderloin steak in pepper sauce
Salmone alla griglia – grilled salmon with lemon
Maialona – pizza with sausages, frankfurters, and ham
Curiosa – pizza with mozzarella di bufala, shrimp, arugula, and parmigiano cheese
Peanut cake
An additional pasta dish with fettuccini that I forgot the name of. Ack.
(Pardon the low quality photos. I took them with my Blackberry as Aids borrowed my S95 the week before.)
The food arrived one at a time, starting with the caprese.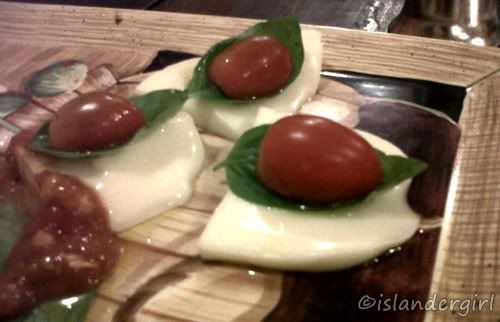 I loved the mozzarella! Hehe. Soft, chewy, and very tasty. I found out that fresh basil leaves aren't my thing so I just ate the mozzarella and cherry tomato (don't judge me!).
Next up were the vongole and baked fusili. I didn't get to taste the vongole but it looked delicious. I liked the baked fusili but it was lacking a little something. Pepper perhaps? Whatever it is, the baked fusili was a bit bland without it.
My sister ordered what became my favorite dish: ravioli stuffed with spinach and pomodoro sauce. The ravioli originally came with cream truffle sauce but she changed it to pomodoro sauce instead. That was too bad – the ravioli tasted good with the tomato-based sauce but I imagine it would have been heavenly with the cream. Next time 😀
The penne ala Daniele's was also good, though it could have used a little something extra also. Note: I've never been fond of white wine-based sauces so my review might be biased against it.
As part of my "more healthy food!" campaign (naks!), I ordered the grilled salmon with lemon. The salmon was absolutely perfect: tender and tasted terrific (I love alliteration!). I only wish there were more of it and the marble potatoes.
The filleto ala pepe was also really, really good. The meat was juicy and tender, while the sauce was appropriately spicy. Unfortunately, my brother refused to give me more of his food. LOL
The pizza we got was half Maialona and half Curiosa – so yes, if you're undecided on what pizza to get, just request that you get half of each. I steered clear of the curiosa entirely – I hate arugula and we only ordered the curiosa at my mother's insistence. The maialona was excellent, though I would have preferred it a bit spicier. Since the pizza was thin crust, I could have finished off double my two slice allocation.
We had the peanut cake for dessert. I didn't taste the peanuts at all, which I consider to be a good thing since I'm not fond of peanuts in any form besides roasted and salted. The cake itself was nice – moist, light, and chewy.
Our total bill was around P3,000 without drinks so P500 per person. Not that cheap, but not that bad either when you take into account all the food we ordered. I'll definitely be coming back.
Contact details:
Daniele's Casa Mia
8351 Dr. A. Santos Ave., Sucat Road, San Antonio, Paranaque
Tel #: 826-5163