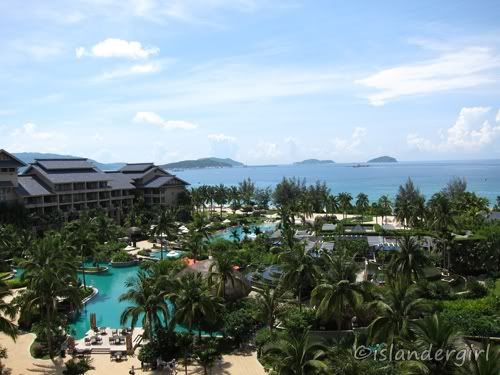 Our flight from Sanya to Hong Kong was at 2pm, which left enough time for us to do a bit of sightseeing. As it turned out, one of my mother's friends is the auditing head for the Hilton Sanya Resort & Spa and he was nice enough to offer us brunch and a tour of the hotel. Tito Jun was a bit late picking us up (he'd gotten lost as he'd never been to our part of Sanya before) so we decided to eat at least  some breakfast before leaving (I love the mini pork buns! :D). Incidentally, I found out that I'm capable of walking really fast while keeping a mini pork bun trapped between my chopsticks 😛
Tito Jun picked us up  in one of the hotel's shuttle vans and gave a running commentary on the history of Hainan and the rapid expansion of Sanya's tourism industry for the entire 30-minute ride. He was a veritable treasure trove of information, as he'd been in Sanya for 4 out of the 21 years he'd been working in China (he was part of the hotel's opening team).
The pace of the tourism development in Sanya is just incredible. The Hilton is located in Yalong Bay and is just one of the five 5-star properties already operating there: the Hilton, the Pullman, the Sheraton, the Marriott, and the Ritz-Carlton. The St. Regis is set to open this November 2011. Each hotel has around 450-500 rooms (the Hilton has 492), catering mostly to tourists from mainland China. All of this development is just the tip of the iceberg.
I asked Tito Jun if he really thought that all the construction could be supported by incoming tourists and he answered with a resounding yes. As he said, we're talking about more than a billion Chinese. Even if they captured only the top 10% of the population with money to spend, they're looking at 100 million tourists a year. At present, they're having trouble retaining staff because the hotels are pirating experienced staff from each other. Tito Jun did worry though that with the glut of hotels in Sanya, they'd eventually be forced to lower their rates to compete. However, that situation is several years away.
After brunch, Tito Jun took us on a tour of the Hilton's different rooms. My mom specifically told me to take photos of the rooms and to show her as soon as I got home. LOL. The first stop was the Presidential Suite, a suite the size of four standard rooms (about 200 sq. m) that comes with a personal butler on call 24 hours. During the peak seasons (Christmas, Chinese New Year), the suite can go for RMB 80,000 per night (~PhP 536,000). Yes, we took a lot of pictures because it's highly unlikely that we'd ever enter a suite like it again 😛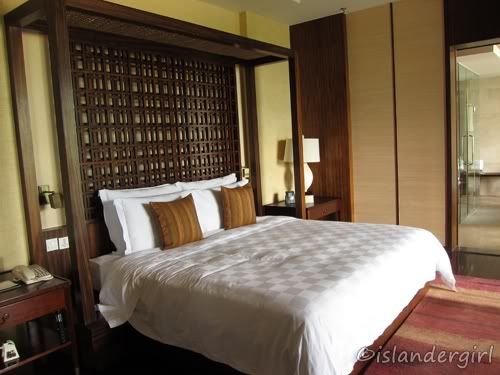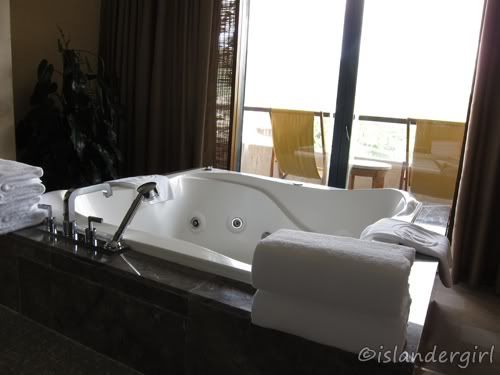 Afterwards, we got to see both the oceanview and non-oceanview standard rooms (50 sq. m). The difference between oceanview and non-oceanview is about RMB 200 per ngiht. What all the rooms have in common is that the bathrooms are so open: at best, there's a curtain that separates the bathtub from the sleeping area but in the rooms of the Presidential Suite, there wasn't even that. Tito Jun said that the no-bathroom-walls policy was in line with their airy tropical architecture. It was only upon the requests of the organizations that book the Hilton for conferences and other events that they replaced the curtains with wooden sliding doors in about 50% of the standard rooms. Considering that these conferences tend to lump complete strangers into one room, the requests are understandable.
We left the hotel at around 11:30. Tito Jun ordered sandwiches for us (more food!!!) to take onto the plane. Unfortunately, our bottled water got confiscated by security. Sanya airport looks so relaxing, with an open ambiance, high wooden ceilings, and wooden benches. Unfortunately, no airconditioning in the terminal means that it gets pretty hot during the middle of the day and when there are a lot of people waiting.
While we were waiting, Dr. Siringan asked me the million peso question: "What did you learn from this training workshop?" The answer he was looking for, which I agreed to right away, was that compared to other places in South East Asia, El Nido is still relatively pristine. It definitely doesn't have the sedimentation load of Sanya and negligible organic pollution compared to Hong Kong. This means that the main anthropogenic threat to El Nido's reefs is actually direct physical damage, whether it is through the collection of corals, dynamite fishing, careless dropping of anchors by tourist boats, or the tourists themselves touching and/or stepping on the corals. These actions can be avoided by educating both the tourists and tourism operators, making the development of a targeted environmental education program of utmost importance.
Once on the plane, I ate the fruit and half the sandwich then tried to sleep the rest of the way. We landed in HKIA at 4pm, faced with a 6 hour layover before our flight to Manila. Dr. Siringan was too tired to leave the airport and explore the city. The solution? Check out the duty free stores! 😀
Unfortunately for me, I didn't find the X-Mini speakers I was looking for. Giordano had a sale but I decided not to get anything since I'll be coming back in October anyway. Had ramen for dinner in the food court. NOTE: some of the shops and restaurants in HKIA accept RMB and USD in lieu of HKD. However, the exchange rate ranges from okay to unfavorable – Giordano offered USD 1 = HKD 7.4, while the ramen restaurant offered USD 1 = HKD 7.1. At the time, the actual exchange rate was USD 1 = 7.7. If you're passing through HKIA on your way back home or there are a lot of you buying food, it's better to convert your money at the official money changer then use HKD to pay as opposed to accepting the shops' rates.
Finally landed in Manila at 12mn on July 13 and got home at 1:30am. There were a bunch of flights that got in before ours so all four baggage carousels were taken. Even though HK Express announced that our luggage would be available at Carousel 2, the luggage from an earlier Asiana flight were just being unloaded with all of their Korean owners still in line for immigration. Again, NAIA Terminal 1 only has four baggage carousels.
Thus ends my China adventure. I met a lot of new people (who will hopefully become friends and colleagues), learned a lot, and experienced a lot. There's just something about travel, be it for leisure or business, that opens up your mind to the world's possibilities. I'm looking forward to my Hong Kong trip in October with Adrian and to the family trip to the US in April next year. Bring it on! 😀