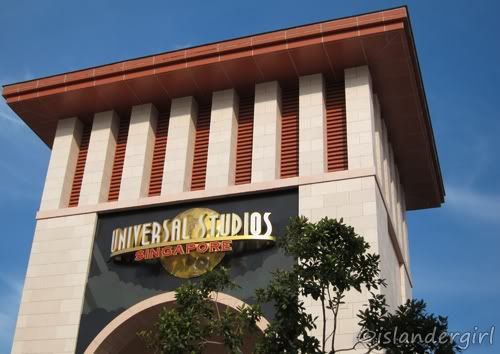 We left the hotel at 8:30am and got to Universal Studios Singapore at around 9:30am. TIP: even though the park opens at 10am, be at the gates by 9:30 at the latest as the lines going in can and will get longer closer to opening time. Once inside, ride the attractions that will have the longest lines later in the day:
Battlestar Galactica – the world's tallest dueling roller coasters at 42.5 meters tall! Choose either the Human or Cylon track: the Human track is a seated coaster that travels at 82.8 kph but with no inversions, while the Cyclon suspended coaster goes through five inversions, including a corkscrew and a cobra roll. My sister and I rode the Cylon track first, caught our breath for 5 minutes, then rode the Human track with our brothers. Have I mentioned how much I love roller coasters? 😀 Though looking back, I would recommend a 10-minute break between rides.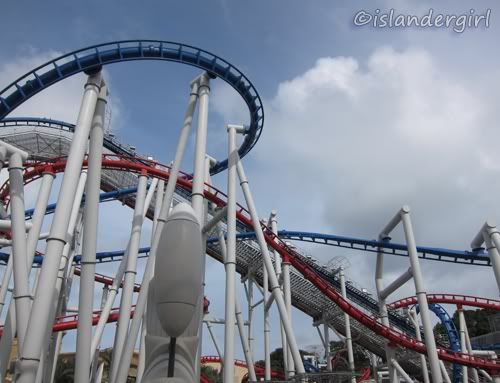 Return of the Mummy – a roller coaster ride in the dark. Basically it's Space Mountain but with physical effects like fire and great set design.
Shrek 4D theater – a 3D movie with special effects. Nothing unusual here. There are stationary seats inside the theater for people who'd prefer not to get shaken around. The host just outside the theater doors was highly amusing.
Jurassic Park Rapids – a water ride with a long plunge at the end. To be honest, the only exciting part of the ride was the flume at the end.
You can't bring your bags on the BSG, Mummy, and Jurassic Park rides but there are lockers nearby where you can leave them. The first 30 minutes are free.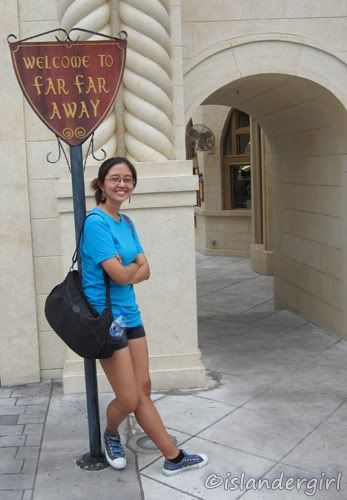 Also get a good spot for the WaterWorld stunt show because it's just that cool.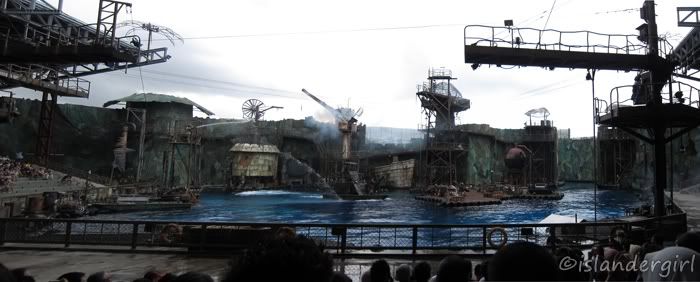 Also check out the barbershop quartet that performs outside Mel's Diner.
There are food outlets all over the park though of course they're expensive – my grilled chicken burger, crisscut fries, and Sprite clocked in at S$10.50 – so if you want to cut costs, bring your own sandwiches.
There are souvenir shops aplenty though my favorite was the movie-themed one along Hollywood Boulevard. This is where I got myself a clapperboard magnet and a "Best Director" mug for Aids. My siblings and I also had a lot of fun with the spoof Oscar trophies. LOL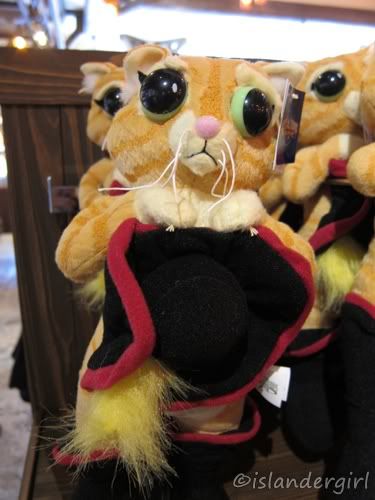 We left the part at 5:30pm tired but happy. I wanted to ride the Cyclon track one last time but nobody else wanted to and it was a 40 minute wait. We met up with my mom at Wisma Atria mall and had dinner there before going back to the hotel. Next up: Singapore Zoo and Singapore Flyer!