After a night of drinks, food, and lots of catching up the night before, we woke up at 6:00 am the next morning just in time to join Mike during his daily morning inspection of the farm. He drove the tractor while we stood in the small trailer behind him. I didn't realize just how big the farm was before the tour, as "50 hectares" sounds so abstract until you actually traverse all 500,000 square meters of it.
The farm is registered with the SEC under the name "Hacienda Immaculada". It's the largest muscovado sugar-producing hacienda in Antique and has been in Mike's family for generations. At the start of the tour, Mike pointed out the tree Ferdinand Marcos climbed to get away from the dog that was chasing him. Although sugar is its primary crop, the farm also produces rice, vegetables, and tilapia. Mike pointed out the various stages of the sugarcane crop: the newly cleared fields, the just-planted sugarcane, the several-months-old sugarcane, and the sugarcane ready for harvesting.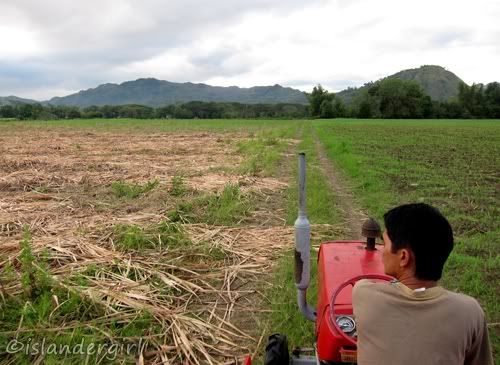 I'm a born and bred city girl, so going around an actual, functioning farm was so new and exciting (as the others couldn't tell from the hundred and one questions I had on sugar production). I was even riding in the back of a tractor! (Sorry, I couldn't get over it at the time.)
Seeing all the greenery emphasized just how detached cityfolk are from the land that supports their needs. Before I corrected her, my mother thought pineapples grew underground. My brother thought strawberries grew on trees. Four in ten children in the UK don't know the difference between a bee and a wasp.
We finished the tour after about an hour, including the stops to take pictures with the bahay kubo overlooking the fish ponds. We ate a quick breakfast, packed up our stuff, and moved out (along with Mike) to the next stop on our trip: Nogas Island.