(This blog entry was previously titled "Monopoly, Movies, and Music" but I decided to chop up the long entry into two shorter ones.)
This past Saturday was practically perfect: a fun afternoon playing card games with geeky friends and a comics run, followed by an entertaining movie and a loud concert.
My friend Nick invited a bunch of us to go to the Monopoly Deal tournament organized by MaDaMi Events and Creative Services and co-sponsored by Bo's Coffee scheduled for July 23 in Robinsons Galleria. He, Beej, Jay-R, Mark, and Carlo went to Megamall leg last July 16 and had a blast. I already knew how the game worked courtesy of the deck my sister got for her birthday so I didn't hesitate in accepting the invite.
Backgrounder on the game: You know how Monopoly works, right? To streamline the boardgame into a card game, the new objective is to complete three property sets (the properties with the same colors). The standard properties and their colors are still in effect (i.e. dark blue Boardwalk and Park Place are one property set, the four Railroads are another set, etc.) and you collect rent by playing a Rent card. There are special Action cards unique to this version of Monopoly that will make your life more difficult: i.e. Deal Breaker lets you steal a complete set from another player, Sly Deal lets you steal a property from another player, while Forced Deal lets you swap properties with another player. The full instructions are found here.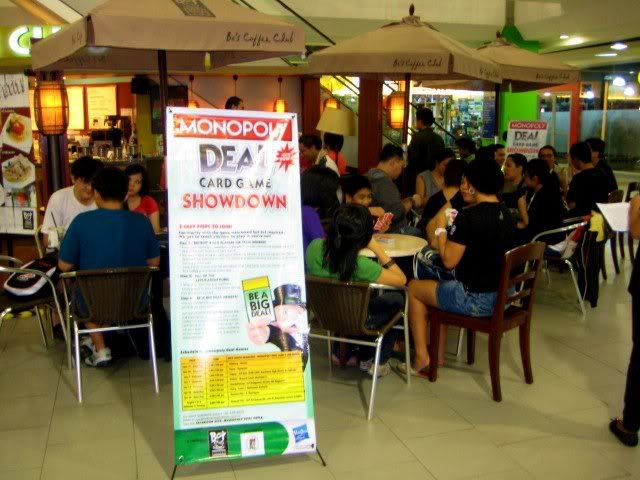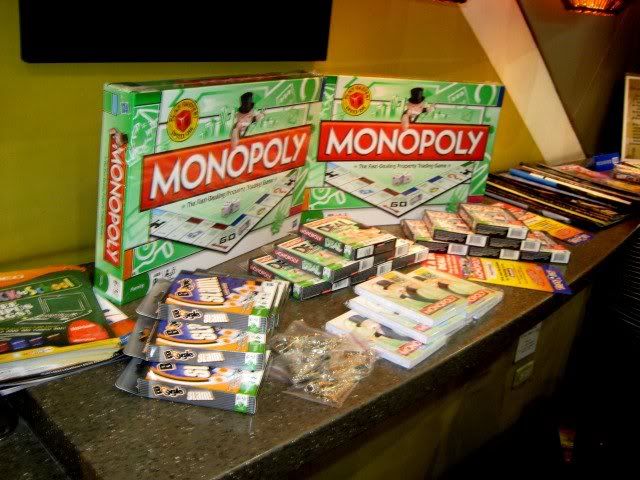 Since there were a lot of players, we split up into teams of 4-5 and played against the members of our team. The winner from each team goes on to play in the Championship Round.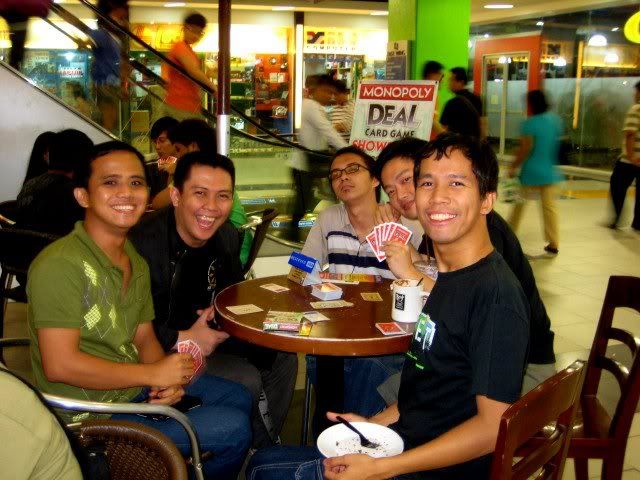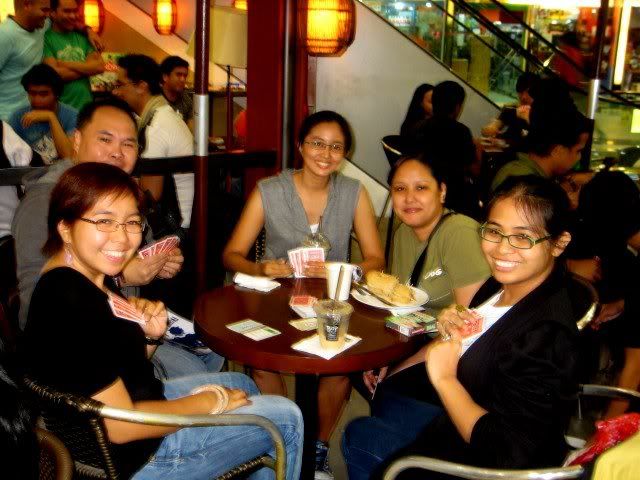 I won our team's game (we took the longest to decide on a winner. Haha!) so I got to play for the championship. GAWD it was so nerve-wracking! I usually play the game for fun – still competitive but with lots of good-natured ribbing and joking all around – but these guys played as if they were in a high-stakes poker game in Vegas instead of Monopoly Deal in a coffee shop. Long story short, I lost. LOL. The kicker is that I could have won the turn before instead of being a coward and not doing anything until I was sure that I was going to win.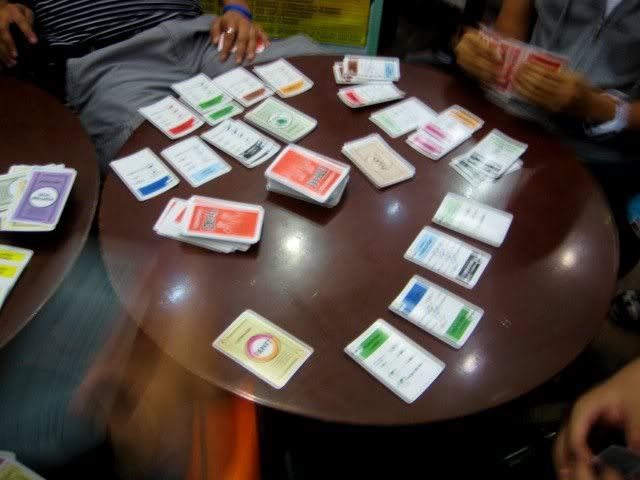 Those are my hands (the one with the white wristwatch) on the right. If you'll notice, I already have the brown set (stolen via Deal Breaker during this turn), the Electric Company (the light green card), and Utility/Railroad wildcard (black on top, light green on the bottom). I had another Deal Breaker in my hand. If I'd played the other Deal Breaker on this turn, I could have stolen the yellow set from the same guy I got the brown set from, moved the Utility/Railroad wildcard over to the Electric Company, and won the game >_< See?!?! This is what happens when you overthink everything and refuse to move until you have a sure thing *headdesk* Oh well. LOL. At least I got some consolation prizes: the Monopoly Deal Transformers edition (you collect robots instead of properties :D), Pictureka!, and Boggle Slam. Yay more games to play at home! (As of this writing, I've already broken in the Boggle Slam cards with my mom and siblings and the game is such a riot.)
Much thanks to Nick for inviting us to play, MaDaMi Events and Creative Services  for being such good hosts, and Bo's Coffee for the excellent caffeine! The last leg of the tournament will be in Bo's Coffee Katipunan (329 Katipunan cor. Gonzales, Loyola Heights) on August 5-6 (Friday and Saturday), 4-7pm. All photos shown here were taken by the organizers.