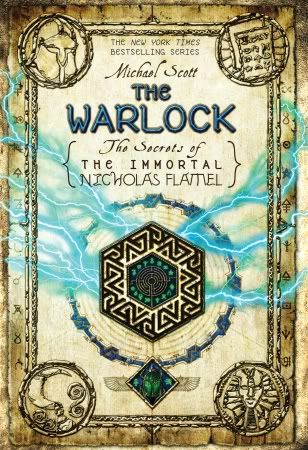 "The Warlock" is the 5th book in Michael Scott's bestselling series "The Secrets of the Immortal Nicholas Flamel". The Amazon product description reads:
"In the fifth installment of this bestselling series, the twins of prophesy have been divided, and the end is finally beginning.
With Scatty, Joan of Arc, Saint Germain, Palamedes, and Shakespeare all in Danu Talis, Sophie is on her own with the ever-weakening Nicholas and Perenelle Flamel. She must depend on Niten to help her find an immortal to teach her Earth Magic. The surprise is that she will find her teacher in the most ordinary of places. "
I read the last book ("The Necromancer") at the start of the year so I started off sketchy on the details of what happened but Mr. Scott includes a lot of "Previously, on the Secrets of the Immortal Nicholas Flamel" backstory through the opening diary entry and lots of exposition throughout the story. Unfortunately, the exposition is both a boon and a bane as while useful, I found myself bored whenever the information was repeated.
There are quite a few twists in this book, especially where the Newmans are concerned. As to whether the twists are good or just annoying is up in the air – I'll decide once "The Enchantress" comes out but right now, they're bordering on annoying.
The book is fast-paced as always, necessary because the in-universe time span between "The Alchemyst" and this one is only one week. While this makes for rapid page-turning, character development suffers as a result. I love Josh so I still find it hard to believe that Josh turned into a wussy, easily brainwashed asshole in the span of what, four to five days? Exposure to Clarent and Virginia Dare are not good enough reasons. At this point, the characters that redeem the book are Scatty, Niten, and Machiavelli. Machiavelli's shaping up to be my favorite character in the series because of the growth he experiences.
What cannot be faulted is Mr. Scott's mythology-building. While he didn't create any of the mythological creatures or immortal personalities, he has this way of weaving them into his narrative that makes their presence work. We get the information needed to understand who they are and their motivations but there are no cheap *hint hint wink wink* in-jokes.
Overall, I'm giving "The Warlock" 3/5 stars. A good page-turner with excellent mythology-building but ultimately somewhat thin and lacking. Hopefully "The Enchantress" will serve as a good closer for the series.