I got to attend the "Harry Potter and the Deathly Hallows part 2" premiere sponsored by Studio 23 and Warner Bros in Rockwell Mall. Had mascot duty at the start with the rest of PHP and we got our photos taken for a Studio 23 show airing tomorrow at 6:30pm. They also interviewed us after the movie.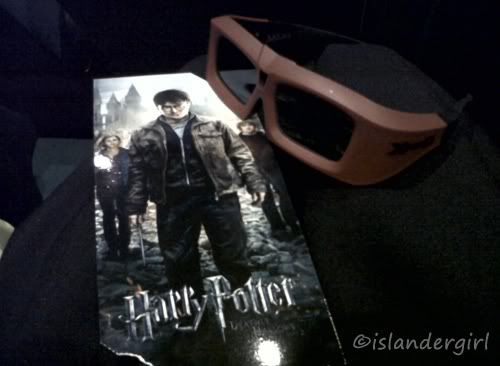 They had a trivia contest at the start, with winners getting a goodie bag from Warner Bros. I won the last goodie bag after the two people in front of me didn't know the name of the actress who plays Molly Weasley. What irked me was that the girl who "won" the previous goodie bag didn't even know the answer (what is Prof. Flitwick's first name) – she got her friend (who was sitting in front of her) to give it to her and she still got it wrong the first time! ("Fideus" instead of "Filius" *facepalm*). Joan AKA severusa_snape won the first bag after knowing who the new Hogwarts headmaster was (grabe kung nagkamali pa si Joan dito, ewan ko nalang :P).
And now, the commentary!

THERE BE SPOILERS AFTER THIS!
Continue reading "Thoughts on Deathly Hallows part 2 (SPOILER ALERT!!!)"