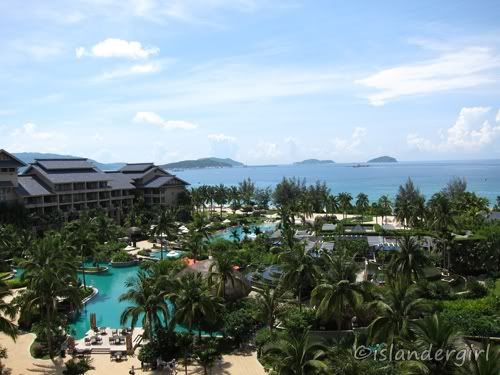 Our flight from Sanya to Hong Kong was at 2pm, which left enough time for us to do a bit of sightseeing. As it turned out, one of my mother's friends is the auditing head for the Hilton Sanya Resort & Spa and he was nice enough to offer us brunch and a tour of the hotel. Tito Jun was a bit late picking us up (he'd gotten lost as he'd never been to our part of Sanya before) so we decided to eat at least  some breakfast before leaving (I love the mini pork buns! :D). Incidentally, I found out that I'm capable of walking really fast while keeping a mini pork bun trapped between my chopsticks 😛
Tito Jun picked us up  in one of the hotel's shuttle vans and gave a running commentary on the history of Hainan and the rapid expansion of Sanya's tourism industry for the entire 30-minute ride. He was a veritable treasure trove of information, as he'd been in Sanya for 4 out of the 21 years he'd been working in China (he was part of the hotel's opening team).
The pace of the tourism development in Sanya is just incredible. The Hilton is located in Yalong Bay and is just one of the five 5-star properties already operating there: the Hilton, the Pullman, the Sheraton, the Marriott, and the Ritz-Carlton. The St. Regis is set to open this November 2011. Each hotel has around 450-500 rooms (the Hilton has 492), catering mostly to tourists from mainland China. All of this development is just the tip of the iceberg.
I asked Tito Jun if he really thought that all the construction could be supported by incoming tourists and he answered with a resounding yes. As he said, we're talking about more than a billion Chinese. Even if they captured only the top 10% of the population with money to spend, they're looking at 100 million tourists a year. At present, they're having trouble retaining staff because the hotels are pirating experienced staff from each other. Tito Jun did worry though that with the glut of hotels in Sanya, they'd eventually be forced to lower their rates to compete. However, that situation is several years away.
After brunch, Tito Jun took us on a tour of the Hilton's different rooms. My mom specifically told me to take photos of the rooms and to show her as soon as I got home. LOL. The first stop was the Presidential Suite, a suite the size of four standard rooms (about 200 sq. m) that comes with a personal butler on call 24 hours. During the peak seasons (Christmas, Chinese New Year), the suite can go for RMB 80,000 per night (~PhP 536,000). Yes, we took a lot of pictures because it's highly unlikely that we'd ever enter a suite like it again 😛 Continue reading "Sanya, Hainan, China Day 5 – the Hilton Sanya and exploring HKIA"